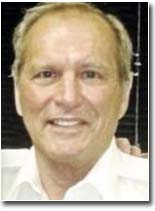 William Robert Croucher, Jr.
1943 - 2013

Bill and Bobbie at
Ankara Reunion 2005



In Memoriam

Captain William Robert Croucher, Jr., 69, of Sonoma, CA died at 11:46 AM on Friday, March 15, 2013 in a helicopter accident.

Capt. Croucher was born December 22, 1943 in Baltimore, MD. He served his country as a helicopter pilot in the U.S. Army during the Vietnam War, where he was highly decorated and received the Purple Heart. He was a Christian and previously served on the church council at Christ Lutheran Church in Oakland Park, FL. He previously worked for the Fort Lauderdale Police Department, where he instituted their Aviation Department. Capt. Croucher worked for ERA for almost thirty-four years and was the only pilot to be named Pilot of the Year twice. He was a member of the Vietnam Helicopter Pilots Association. His greatest joy in life was flying and had logged over 22 thousand hours in the air. He also enjoyed spending time with his family and traveling.

Capt. Croucher is survived by his wife of twelve years, high school sweetheart, and love of his life, Bobbie Croucher of Sonoma, CA; sons, John Croucher and wife Angela of Beaumont, TX and Alan Rockey and wife Tracy of Rocklin, CA; daughter, Shannon Tarrant and husband Sean of Petaluma, CA; brother, Gary Croucher; sisters-in-law, Judy Croucher and Sylvia Brewer; grandchildren, Katelynne, Nicholas, Jessica, and Richard Croucher, Zach, Wyatt, and Tanner Tarrant, and Ryan, Lauren, and Madison Rockey; niece, Kristen Croucher; and nephew, Christopher Croucher.

He was preceded in death by his parents, Cecelia and Lt. Col. William Croucher, Sr.; sons, William Croucher and Richard Croucher; and brother, Richard Croucher.

His memorial service will be at 6:00 PM on Wednesday, March 20, 2013 at the Johnson Funeral Home Chapel. Gary Croucher will officiate. Visitation will be at the funeral home on Wednesday from 5:00 PM to 7:00 PM.
Provided by Johnson Funeral Home