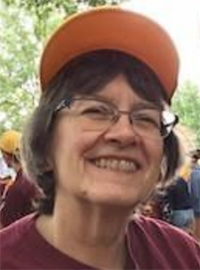 Kathy Martin (Mullard)


Kathy Martin (Mullard)
Kathy Lee Martin Mullard, 63, of Crystal Lake, passed away on Friday, December 13, 2019. She was born in Livorno, Italy on September 17, 1956 to Lt. Col. Devero and Mildred (Wilder) Martin.
As the daughter of a military officer, Kathy spent her early years travelling the world. She lived in Italy, Virginia, Arizona, Thailand, Turkey, and North Carolina. She graduated from George C. Marshall High School in Ankara Turkey in June of 1974. She attended North Carolina State University and graduated with a Bachelor's Degree in Civil Engineering in 1980. She completed a Masters of Education degree from National Louis University in 1994.
In the early 1980s, she worked for the State of North Carolina Office of Emergency Management until starting in the US Air Force as a Civil Engineering Officer. She served on active duty in South Carolina, Korea, Texas, and Germany before transferring to the US Air Force Reserve in 1992. She was discharged in 2014 in the grade of Major.

She married Fred E. Mullard on September 14, 1991 in Franklinton, NC. They lived in Germany, Okinawa, and Illinois.

Outside of her Air Force job, she loved to help other people, especially children. She was a La Leche League leader, Girl Scout Troop Leader, Girl Scout Leader Trainer, and Sunday School Teacher at St Paul's United Church of Christ. She always kept a positive attitude and worked hard to show that a woman could do anything she put her mind to.

Kathy is survived by her husband, Fred; daughters, Amy and Robin Mullard; sisters, Ann (William) Hardee and Linda Martin; and her beloved cats, Albert, Annika, and Lucy.

A visitation will be Friday, December 20, from 3 pm until 8 pm at Davenport Family Funeral Home and Crematory, 419 E. Terra Cotta Ave. (Rte. 176), Crystal Lake. Visitation will continue Saturday morning at the funeral home from 9 am until the time of a funeral service at 10 am. Burial will follow at Windridge Memorial Park, Cary.

In lieu of flowers, memorials in Kathy's name can be made to the Girl Scouts of Northern Illinois at www.girlscoutsni.org.

For online condolences visit www.davenportfamily.com or call 815-459-3411 for information.
Published in Northwest Herald on December 18, 2019

Back to In Memoriam