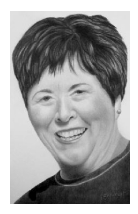 Paula Race Grookett

Paula Race Grookett, 70, of Columbia, SC passed away April 3, 2014 after a long battle with breast cancer. Paula was born July 2, 1943 in Trenton, NJ to parents Melvin Charles Race and Loretta Anne Race. She was a self-described "Air Force Brat" and lived much of her childhood at Shaw Air Force Base in Sumter, SC, but also lived in Belgium and Turkey.
She went to college at the University of South Carolina, and she was a lifelong Gamecock fan. On July 30, 1966, she married Bob Grookett, Jr. She began her career as an English teacher and then became a librarian. She worked over the years at Lower Richland High School, Hopkins Jr, and W.A. Perry. She eventually became the Director of Media Services for Richland School District One, where she was responsible for the management of all the libraries in the district, as well as the television studio. During those years, she and Bob raised their two children, Tara and Rob, while they both worked full-time.

Paula loved to bowl, and for years she was on various bowling leagues and brought home many trophies. She retired in 1996 after working for 32 years with the public school system, and after retiring, she taught computer classes at Midlands Tech. Paula took an art class in 1999, and she discovered a love of watercolor painting. She then moved on to colored pencils, and spent much of her time taking art classes and painting, especially flowers and portraits. Paula enjoyed working with the local arts community.She was an active member, officer, volunteer, and website designer for several art organizations, most notably with Trenholm Artists Guild and Village Artists Gallery. Paula loved to go on cruises, and she has been on 12 cruises over the years with her mom, sister-in-law, and other friends and family. She was into technology, and she always had to have the newest Apple gadget.
She was "Nonni" to her grandchildren, Colin and Caitie, and she embraced that role with passion. Paula will be lovingly remembered by her husband of 47 years, Robert A Grookett, Jr; daughter and son-in-law Tara Anne Ryan and Richard P Ryan, of Duluth, GA; son Robert Charles Grookett of Columbia, SC, and grandchildren Colin Patrick Ryan and Caitlin Anne Ryan of Duluth, GA. Paula was preceded in death by her mother, Loretta Anne Race; father, Melvin Charles Race; and her brother, Charles Gregory Race.
A memorial service in honor of Paula will held at 3:00 p.m. Wednesday, April 9, 2014, at Dunbar Funeral Home, Devine Street Chapel. The family will receive friends from 5 until 7:00 p.m. Tuesday, April 8, 2014, at the funeral home. In lieu of flowers, memorial donations may be made to the South Carolina Oncology Associates (SCOA) Cares Foundation, PO Box 2046, West Columbia, SC 29171. Please sign the online guestbook at www.dunbarfunerals.com.
Published in The State on April 6, 2014

Back to In Memoriam Page