Peter Sherman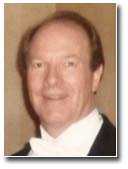 Peter Cayce Sherman, a resident of this city for 40 years, passed away Friday, August 9, 2013, after an extended illness. Mr. Sherman was born in Plattsburg, N. Y. on March 24, 1951, and, being the son of a career Air Force officer, was raised all over the world, finishing his secondary education at the American School of Ankara, Turkey. He took his degree at the University of the South, in Sewanee, Tenn., where he was member of Alpha Tau Omega. Following graduation, he came to Mobile to visit a friend, and while here met the beautiful Jean Rawlings Outlaw, and, well, decided that is where he was meant to settle. After a 34 year career with the Merchants National (later Regions) Bank, during which he gained the admiration and respect of colleagues and clients alike, he retired to pursue personal financial interests; subsequently serving on the board of directors of BankTrust Financial Group, Inc
Mr. Sherman was a sportsman who relished the chance to be abroad in God's creation: whether on the golf course or a beach , but being particularly fond of the Black Belt forests of Wilcox County and the quiet majesty of the Tombigbee River swamp. He was a man of many parts and well loved in the broader community. He was honored to have served both as the president of the Athelstan Club and of the Country Club of Mobile (both of which during his tenure underwent transformative changes achieved against substantial obstacles); further, he was a member of several organizations, and all of these institutions will mark his passing with sadness, but also with gratitude to have known such a kind and generous spirit. Well done good and faithful servant.

He is survived by his wife, friend and tireless helpmate, Jean Outlaw Sherman, his devoted sister, Lauren Peele (Robbie) of Oak City, N.C., and his parents, Col. and Mrs. Laurence Fales Sherman of Hopkinsville, Kentucky. He departed secure in confidence and pride in his two sons, Rawlings Outlaw Sherman, and Peter Cayce Sherman, Jr. He further leaves behind his mother-in-law, Barbara Rawlings Outlaw, brother-in-law Cabell Outlaw, Jr. and beloved nieces and nephews.

Services for Mr. Sherman will be held at Christ Fellowship Baptist Church, 445 Azalea Road, on Tuesday, August 13, at 10:00 o'clock AM with burial following at PineCrest Cemetery.

In lieu of flowers, the family asks that memorial contributions be made to Wings of Life at 800 St. Louis Street, Mobile Alabama 36602, Or Christ Fellowship Baptist Church.
Published in the The Mobile Press-Register from August 10 to August 11, 2013

In Memoriam