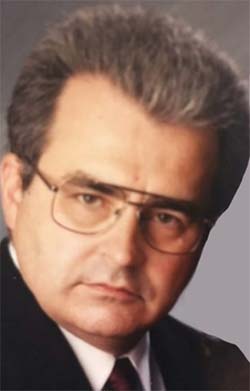 Arthur Sposto
Arthur J. Sposto, 68, of Dunmore died Tuesday after a courageous battle with renal cancer. He was married to the former Joyce Stefursky. The couple celebrated their 43rd wedding anniversary on Sept. 8. Arthur was born in Scranton, son of the late James and Susan Allegrucci Sposto.
Arthur served four years in the Navy as radar technician and was a member of the VFW Dunmore Post 3474, the American Legion Post 0013, and the Sparks radio club also while serving as a ham radio instructor and exam administrator. He was a very conscientious blood donor and was recognized by the American Red Cross for giving 29 gallons over his lifetime.


Arthur retired from the NEIU after more than 30 years and after retirement enjoyed working part-time for the Home Depot. His hobbies included collecting Lionel model trains and talking to his many friends across the world over his HAM radio. He above all else was a loving and devoted husband, father, brother and friend who will be surely missed.

He is survived by his son John, at home; a brother, James, of Scranton; a sister, Susan Christian, of Kingston; a brother-in-law, Pete Stefursky and wife, Dolores, of Texas, and several nieces, nephews and cousins.

The funeral will be Monday at 9 a.m. from the funeral home, with Mass of Christian Burial at 9:30 in St. Rocco's Church, 118 Kurtz St., Dunmore. Interment will be private.

Friends and family are invited to call Saturday from 7 to 9 p.m., and Sunday 2 to 4 and 7 to 9 p.m.

The arrangements have been entrusted to the Morell-LaBelle Funeral Home, 301 Chestnut St., Dunmore.
Published in Scranton Times on June 22, 2017

Back to In Memoriam