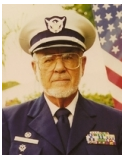 Ricard Weigler
Vice Principal, GCMHS
1969-1971


Weigler, Sr., Richard J.
Apr. 17, 1926 - Feb. 2, 2013

Richard J. Weigler, Sr., 86, of Venice, FL, passed away peacefully on February 2, 2013 surrounded by his family after a long courageous battle with cancer.
Survivors include his daughter, Alison Zacarolli; sons Richard J. Weigler, Jr. and Peter Weigler; and grandchildren Anthony T. Zacarolli, Stephanie F. Weigler, Kayla D. Weigler, and Kelsey M. Weigler. He was predeceased by his wife of 27 years, Frances S. Weigler in 1988.

A Mass of Christian Burial will be held on Friday, February 8th at 1PM at Epiphany Cathedral in Venice, FL.

To share a memory please visit www.farleyfuneralhome.com.
Published in New Times, February 4, 2013



In Memoriam