The summer of 1999 found alumni from the mid-sixties gathering in the city of Savannah, Georgia. Forty-two people attended this mini-reunion, some traveling from as far away as Hawaii and California.
Historic buildings and live oaks draped with spanish moss provided a rich backdrop for this reunion. Good food, friends, drink and hotel rooms on the beach made for another successful gathering.
Lance Haynes '65 along with "Blu" '66 were instrumental in organizing this reunion.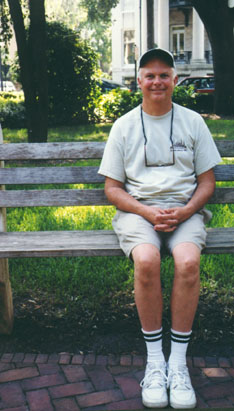 FORREST GUMP
If you saw "Forrest Gump" you will recognize this bench. Tom Hanks sat in this park, with his box of chocolates, and detailed his life story. This was the starting point for Mike Morrison '64 and his photographic odyssey of this reunion.