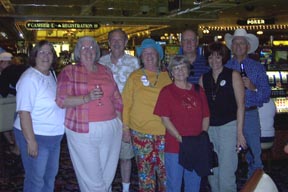 This is a picture taken in the casino before security advised us that we were not allowed to take pictures. Bud's brother-in-law, John, took the picture.
Submitted by: Donna Brown
Pictured are (left to right):
Donna Brown 68, Sue Heick 66, Dennis Murphy 66, Anita Donohoe 66, Barney Fry 67, Bud Richards 67, Jill Park 71, and Pat "Turk" Kornegay 67.