LIFE EVENTS
This page was inspired by an electronic newsletter that Susan Curran 72 sends out every three months to her classmates in the seventies. It's a great way to find out what has been happening to your friends. With her permission, we have adapted her wonderful concept on this page.
Let us know what is happening in your life. Do you have an animal tale, a wedding, a new grandchild or something to brag about that you would like to share? That's part of the fun. Come on, be creative!! Share your life with us. Contact us today.
Linda Crocker 66 shared some great advice when faced with the difficult task of deciding what to do with the archives of photographs, business records, letters and diaries that we inherit from our parents.
The value of these things is many sided -– sentimental and emotional -- sometimes even monetary. But all too often these are the boxes that head for the basement or attic because we never quite decide what to do with them. I suggest that other Ankara graduates consider the historic value of the materials in those boxes and the record they represent of the contributions our parents made to not only their country but to the world. Consider the fact that many of our parents may have experienced things and seen places that no longer survive. Some among us may have photographs of the colossal Buddhas destroyed by the Taliban in Afghanistan or of Angkor ruins in Cambodia damaged by the Khmer Rouge?
I would suggest that other graduates consider doing what my sister, brother and I have done. We gathered all sorts of things together telling about our father's career and donated them to his alma mater, the University of Delaware. Recently I looked at the online reference to the collection. It is difficult to describe the wave of emotion I felt in reading about my father's career and the comfort of knowing his hard work and dedication to helping prevent starvation and further food security for so many around the world will not be forgotten. Now I am working to assemble a similar collection of materials recording my mother's long career as a teacher and school administrator. I know my parents were not alone in such achievements and that the records of careers of many other parents of Ankara graduates should find homes in libraries, museums and historical societies.
We are all mortal and all too soon we or our heirs have to decide what to do with all the things we inherited or otherwise accumulated. Think about preserving some of them to honor and tell those stories… like my dad's.
Institution: University of Delaware
PACSCL Consortial Survey Initiative
Creator: Crocker, Charles David.
Title: Charles David Crocker papers.
Dates: 1829-2001 (bulk 1960-1980)
Extent: 11.2 linear feet
Language: Materials in English and French.
Linda also suggested donating items to The American Overseas Schools Historical Society. "AOSHS, is the only organization in the world dedicated to collecting and preserving the artifacts and the history of American overseas schools and telling the story of educating American children overseas."
The heavy metal band Lamb of God released their new album, Wrath, February 2009. The album sold 68,000 copies in the United States in its first week of release and reached the number 1 position in the U.S. Billboard Top Rock and Hard Rock Albums. Wrath was produced by Josh Wilbur, son of Linda Lunsford 68. This is the group's fifth album and the highest debut of the band's career.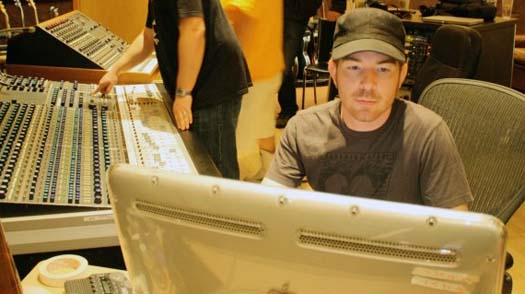 Josh Wilbur busy at work.
Veteran Recognized


Sue Harris Williams 62 had a little reunion at her house in Gainesville, VA on April 19, 2009. Her late brother, George Harris 65, was recognized by the Veterans Administration the next day at the Vietnam Memorial Memories Ceremony at the Wall in D.C. On the 20th of April, 123 Vietnam veterans who had died of injuries sustained from the war were recognized. George had been exposed to Agent Orange and came down with diabetes when he was 35. He died of a brain bleed from the diabetes four years ago.
Ted Van Dyke 65 and John Nelson 65 were his best friends back in Ankara and live in the Washington, D.C. area, where Sue and her husband Jim live. Sue's sister Priscilla and brother, Ned Harris 63, and George's two children, who live in New England, also attended.

Left to right: Ted Van Dyke 65, John Nelson 65, Sue Harris Williams 62, Jim Williams 62, Priscilla Harris Morse, Ned Harris 63
Wedding





Rebekah and Ben

Rebekah Olson, daughter of Sally Turner 69, married Ben Erler on August 23, 2008 in a beautiful ceremony on the Mississippi River (Rasberry Island).

Sally flew back from London a week early to help with last minute details.

It was a wonderful occasion for the entire family to get together.
Grandchildren


Aubree, granddaughter of

Suellyn Nanney 60

, was voted Homecoming Queen for basketball at her high school. Her brother, Drew, was her escort.

Aubree and Drew