LIFE EVENTS
October - December 2010
Let us know what is happening in your life. Do you have an animal tale, a wedding, a new grandchild or something to brag about that you would like to share? That's part of the fun. Come on, be creative!! Share your life with us. Contact us today.
Best Video Ever Award



In 2009 and 2010 we posted "Birthday Bash" photographs of Blu Brown 66 and his Ankara alums. These guys have been friends for over 40 years and it warms the cockles of our heart every time they share their friendship with us.
This year they sent us the best video we have ever received. Okay, it is the only video we have ever received, but until someone sends us a better one, it gets the Connections "Best Video Ever Award."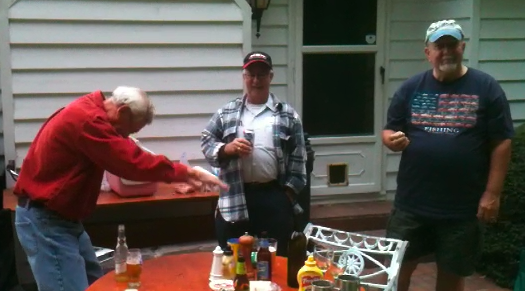 Bob "Blu" Brown 66, Larry Deuermeyer 68 and Bud Richards 67
Have fun watching Bow to the Puzzle Ring King or Blu's Birthday Bash 2011. Depending on your internet speed, it could take several minutes to download the movie, but it is well worth the wait.
And a big thank you to Lance Haynes 65 for sending us this movie.
Transitions



Ronald Taylor 68 lost his father on October 29th, 2011. Colonel (RET) Dale Taylor, 93, entered into eternal rest at Memphis Jewish Home to be with is beloved wife, Shirley Taylor.
Full Obituary & Guestbook: Savannah Morning News
Notification provided by: Ankara Alumni Network

George Douglas "Buddy" Ingram, Jr., musician, Bronze Star Medal recipient and father of Doug Ingram 73 and Bil Ingram 74, passed from this earthly life on October 14, 2011.
Full Obituary & Guest Book: Florence Time Daily
Tracy Dunham 68 lost her father, Colonel (Ret.) William Henry Dunham on September 22,2011.
Full Obituary: Richmond Times-Dispatch
Notification provided by: Ankara Alumni Network
Suzanne Quine 60 lost her mother, Kate Ward, on September 9, 2011. Kate Ward loved life and navigated its unpredictable turns with courage, grace, joy and kindness. She climbed fences until she was 80, played bridge into her 90's and when she died, one month short of her 94th birthday, was looking forward to a trip and a really good book.
Full Obituary: Austin American-Statesmen
Notification provided by: Ankara Alumni Network