LIFE EVENTS
2nd Quarter 2011
This page was inspired by an electronic newsletter that Susan Curran 72 sends out every three months to her classmates in the seventies. It's a great way to find out what has been happening to your friends. With her permission, we have adapted her wonderful concept on this page.
Let us know what is happening in your life. Do you have an animal tale, a wedding, a new grandchild or something to brag about that you would like to share? That's part of the fun. Come on, be creative!! Share your life with us. Contact us today.
The Istanbul - San Francisco Musical Bridge Project


The San Francisco - Istanbul Musical Bridge Project finds musicians from three countries joined together in Istanbul. The Mode Art Brass, Istanbul and Sierra Ensemble of San Francisco perform with guest musicians of Spain in concerts and master classes throughout the week of May 23-May 29, 2011. Janis Lieberman 68, an International French horn artistist, is a member of Sierra Ensemble.
Sierra Emsemble: Upcoming Events

Joe Donohoe Memorial Reunion


The spirit and support of our alumni is extraordinary. Joe Donohoe 60, brother of Rick, Anita and Will, passed away April 7, 2011. His memorial service was in San Francisco on April 16th. Eight of his Ankara family attended his service.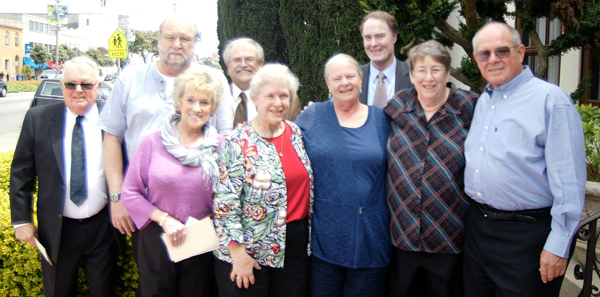 Jeff Cronk 60; John Batt 63; Kay Duncombe Millette 62; Tom Logan 60; Suellyn Nanney Fry 60; Anita Donohoe 66; John Kissick 60; Carole Walther Jacubczak 60; Steve Reich 62
Daniel L. Tucker, father of Bill Tucker 69 passed away on May 17, 2011. "He was 99 years and 9 months and enjoyed every day."
Read more: Philadelphia Inquirer
Jackie Wells 70 lost her father Jack Wells, age 78 on May 13, 2011. He served for 22 years in the Air Force and retired from GTE of Tampa, Fla. He leaves behind a loving family including his wife of 60 years, Marie.
Read more: Daily Mountain Eagle - Jack Linx Wells
Nancy Stubbs, age 92, died on May 4, 2011. Nancy is survived by her two sons, Jerald Stubbs 63, three grandchildren and four great-grandchildren. The graveside service will be Tuesday, May 10, 2:00 PM, at the Blackcreek Church Cemetery, Ellabelle, Georgia.Notification provided by: Ankara Alumni Network
Bill Gamble 69 lost his mother, Virginia, on April 20, 2011. She enjoyed traveling throughout the Middle East and resided for about 15 years in Ankara, Turkey before returning home to Pueblo in January 1967 where she lived until her death.
Notification provided by: Ankara Alumni Network
Kenith Smith, father of Inci Smith 85, passed away on March 31, 2011 surrounded by his family and best friend. He met his wife, Ermine, while stationed in Ankara, Turkey. "When he married Emine he didn't get just a wife, he got a whole family because he then became a Father to his new daughter Inci Marie and his son Inan William for which he later adopted and treated them as his own."

Full Obituary: Schertz Funeral Home
Notification provided by: Ankara Alumni Network
Colonel Thomas F. Walsh (RET), father of Michael Walsh 67, passed away at home on March 15, 2011. He was 90 years old.

Tom was born on December 4, 1920, in Aughamore, County Mayo, Ireland. During the depression, his family immigrated to the U.S. through Ellis Island. He was commisioned as a 2nd Lieutenant in 1944 and retired as a full colonel in 1970.

Full Obituary with Photo Gallery: Sparkman-Grane Funeral Home
Notification provided by: Ankara Alumni Network